This is NOT the Athens County Humane Society Web Page!
Here's the link to click if you're looking for the ACHS home page.
Volunteer
Almost all animal shelters and rescue groups are seeking partipation from concerned community members. They need your support! Get in touch with your local organizations for more information about how you can help.
Adopt a new friend into your heart
No matter where you live, there are many happy, healthy dogs and cats waiting for your visit. Look here!
Don't Buy From a Pet Store!
Join other concerned animal welfare advocates in the campaign against overpopulation in Athens. (read more)
Rescue
If you don't rescue, DON'T BREED! Go Rescue!
No Declawing
The Athens County Humane Society is opposed to declawing for significant and defendable reasons. (read more)
Calico Cat-Friendly Web and Email
Calico is a SEO-Friendly web host. Also, birds are friends, not food.
Spay/Neuter Assistance
If you live in Athens county, read below to find out about low cost options from ACHS.
STEP 1: Find out when/where to register at one of the ACHS prepay sessions (see schedule on ACHS site). This reserves an appointment for your animal at the next available spay/neuter clinic. Financial assistance available for Athens County residents.
STEP 2: If you are requesting financial assistance, bring the following items with you to the registration/prepay session:
A) photocopy of 2007 tax return or photocopy of proof of assistance through one of the eight government programs which will qualify you for financial assistance for spay/neuter (see list below)
B) proof of Athens County residency (e.g., rental contract, property tax bill, driver's license with a STREET address-not P.O. Box)
C) CASH copayment: $30 for 1st dog, $15 for each addt'l dog, $15 for first cat, $10 for each addt'l cat
STEP 3: When you receive your clinic appointment date/time, drop your animal(s) off in the morning at the clinic you have been scheduled for and pick up your spayed/neutered pet in the evening.
STEP 4: Enjoy life knowing that your dog/cat will live a longer, healthier life, a life without the stress of finding homes for kittens/puppies, and happiness knowing that you have helped your community by being a responsible pet owner.
Spay/Neuter Ordinance
Athens City Council passed (and then later repealed) the Spay Neuter Ordinance on June 21st 2004. Please contact your city council representative to re-enact the ordinance and see that it is enforced!
Click here for more adoptable cats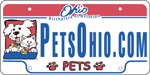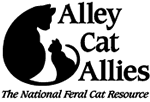 thanks to FrogNet for hosting this website.


The Infinite Cat Project